Pining for a pizza?
Look no further. We've created the ultimate guide to the world's greatest pizza combos ever in history, so you can always find your flavour at Just Eat.
You'll find loads of great pizza takeaways in your local area on Just Eat, all rated and reviewed by customers just like you. Order online and we'll deliver. Pick the combo you fancy then search by postcode to find a local pizza takeaway in your area – it couldn't be easier.
Americano
After an all-American feast? Mix it up with meat, veg and spice tonight.
3 Cheese
Like your cheese with a side of cheese? With extra cheese on that?.
4 cheese
Like it cheesy? Even cheesier than a 90's power ballad? We've got just the thing...
Hawaiian
Aloha! You can almost hear the waves lapping at the sandy shores… or is it just the sound of a delivery scooter?.
Margherita
Bow down to the most royal of pizzas – first created back in 1889 for a Queen, it's definitley earned its crust...
Pepperoni
Spicy, smokey slices of deliciousness and melty cheese make for the best of friends, right?
Meat feast
Meat, meat and more meat combined with, uh, more meat. Yup, we'll take two.
Garlic
Not just for warding off vampires, garlic makes for a pretty good pizza choice – just don't forget the mints...
Texas BBQ
If y'all want a taste of the deep south, Texas BBQ is where it's at. But you know that, right? This ain't your first time at the rodeo...
Veggie deluxe
Meat not your thing? You're in the right place. Get your five-a-day… in deliciousness, that is...
Pizza is a dish best served hot, fresh and direct to your door. Did you know that you can order in a delivery of Pizza Hut, PizzaExpress or Papa John's pizza using Just Eat? When you order online or on the app, all you need to do is sit back, relax and wait for your food to appear.
Whether you're looking for the best pizza in London, Manchester, Leeds or Birmingham, the delicious flavours from these big brands are always on hand to offer you a range of styles. You'll find everything from ultra-thin bases to chunky stuffed crusts, all topped off with delicious toppings to suit any mealtime.
If you can't decide which pizza to treat yourself to, these brands offer so many specials that those decisions will only get harder, but it's a nice problem to have. So check out what Pizza Hut, Pizza Express and Papa John's have on their menus. Why not grab a slice of the action?
What's hot in London?

Firezza
Enjoy authentic Neapolitan pizza from Firezza, crafted with passion using the finest ingredients. Hand stretched by the metre and stone baked, get a true taste of Italy delivered to your door.
Papa John's
Savour the taste of Papa John's specially prepared dough with a helping of the freshest ingredients to top it off. The perfect balance of a New York-inspired pizza can be yours in just a tap or two.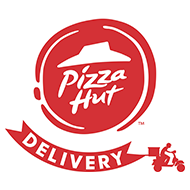 Pizza Hut
Make dinnertime shareable with Pizza Hut's famous deep-pan style. With stuffed crusts, cheesy bites and so much more to get your teeth into, there's a flavour for all the family.