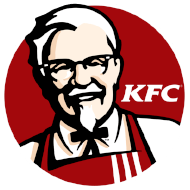 Enter postcode
See if we deliver where you are
We don't deliver there
is outside this restaurant's deliver area, sorry.
Most popular dishes
12 Piece Deluxe Boneless Feast

Dipper's delight... Twelve Mini Fillets, four fries, two sides and a mega drink.

10 Piece Wicked Variety Bucket

A Wicked night in... Ten pieces, eight Hot Wings, four fries, breasts and dips.

6 Piece Bargain Bucket

You can't go wrong... Six pieces of Original Recipe chicken and four fries.
Our stores (162)